The Lighthouse Foster Care Home was selected by AAM to receive a backyard makeover, as part of their 2014 charity project.  AAM has brought together many great minds and hearts to lay out a plan of attack; creating a fabulous backyard for a less fortunate group of children and a bright colorful mural for the backyard wall was at the top of a growing list.  AAM sought out a local artist that would have the passion and imagination to design and paint a 12x20 foot work of art, and they received just that. With murals stretching throughout Mesa, Tempe, and Phoenix and multiple gallery shows selling out, AAM could not have been any luckier than to have Lauren Lee agree to participate.  Knowing that the design would be catered towards kids between the ages of 1yr. and 10yrs., Lauren knew that strong colors and a friendly design was all she needed.  Five days later, with the help of her apprentice Crystal Chandler, she finished a spectacular and fun mural.  
Avis, the manager of The Lighthouse, who has been working closely with AAM, commented about the recent work, "We all love it, the children as well as adults can't get over it.  We spend an enormous amount of time going in and out of the house just to look at it... we just appreciate what they did and the time that they put into it. The mural it is out of this world, it gave the backyard life!"
AAM selected Lauren Lee to receive their Neighborhood Hero award for donating her time, creativity, and passion. Her dedication has brought a world of imagination to what was once an ordinary backyard, the children of the Lighthouse will be forever thankful.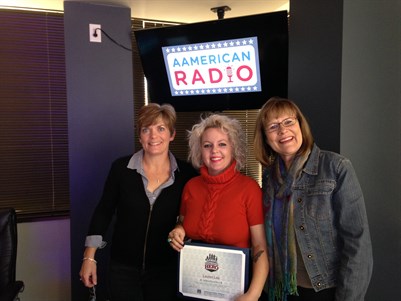 Lauren Lee can be reached by email at laurenlee222@gmail.com