Associated Asset Management (AAM, LLC) is a professional community association management company that was founded in Phoenix, Arizona over 20 years ago.  AAM has always believed in giving back to the community. Therefore, each year, AAM selects a deserving recipient to help support. This year, that recipient is the Lighthouse. Built in the 1950's, the Lighthouse Foster Home is a safe place for children to grow, learn and play. These young boys and girls are often displaced and child protective services or Tribal social services look to homes like the Lighthouse for temporary shelter. Consequently, after so many years of little hands and feet at play, the backyard at the Lighthouse needed some TLC.
With open hearts and wallets, AAM along with 80 gracious vendor partners turned a neglected backyard into a vibrant playground. The project was kicked off by Associated Asset Management (AAM) and led by their VP of Portfolio Management & Training, Susan Platner. Volunteers and donors included local businesses such as AAA Landscape, All Year Round Expert Tree, Carescape, Phoenix Muralist Lauren Lee, Phoenix Tent and Awning, Stillwater Landscape Management, and Waibel & Associates. In addition, a total of 200 volunteer hours were donated and $12,000 was raised to renovate the Lighthouse backyard. The efforts of these groups were essential in completing this backyard renovation.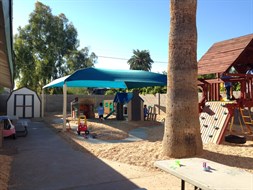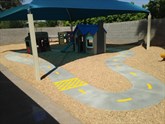 Each year AAM selects a local, community organization like Lighthouse to donate the proceeds from their annual vendor tradeshow. "AAM tradeshow committee and vendor partners had a blast renovating the backyard at the Lighthouse shelter" said Susan Platner. "We are so thankful for all of our vendor partners and community friends who embraced this project to provide the children with a safe and fun backyard."
After many hours of hard work in the sun and dirt, the results are phenomenal. The backyard renovation includes a bright, blue shade structure, super fun scooter track, and a lively animal mural; putting the biggest smiles on so many thankful, little faces. It was truly a labor of selflessness and caring.